Rebuilding the "Happy Bottle Houses" children homes, build new bottle houses and a new school near Kathmandu, support the school in Hile in the "Sherpa-area" near Mt. Everest.
OUR MISSION
Our common mission is to work together to build long-lasting, sustainable and beautiful places to live and to learn for a bright future of Nepal!
OUR VISION
Work together between different cultures, countries and religions.
Create a better world by cooperation and exchanging ideas.
Support values like tolerance, love and mindfulness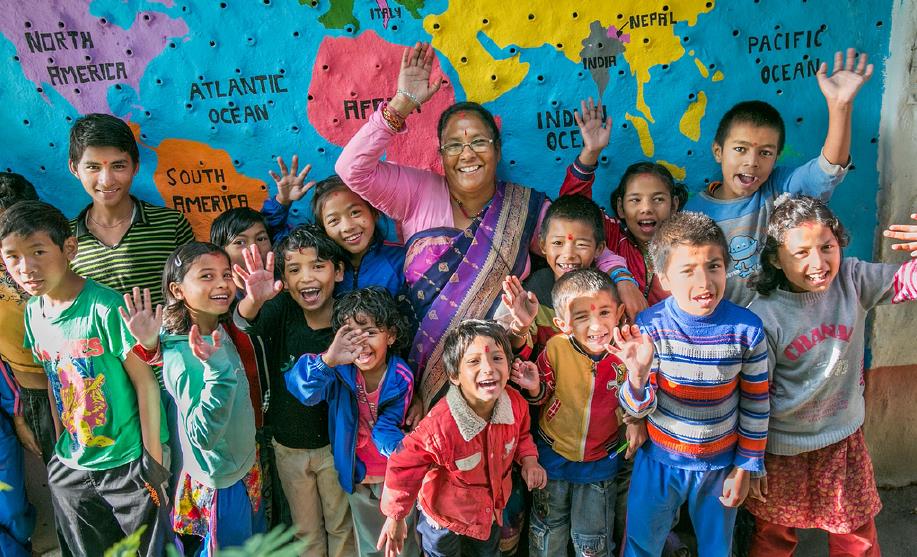 WHAT MAKES US UNIQUE
100% of our donations are used directly for the projects!
Our projects are running through a very close partnership between the Nepal-based NGO "PAORC" and the Austrian-based NGO "Weltweitwandern Wirkt!"
We do NOT have to pay for management-costs and travel costs.
All time of project-management is donated by Sudama Karkhi and Christian Hlade.
Both are leading their own tourism-companies and do this NGO-work voluntarily.
(Donation of qualified project management time was exceeding 1.000 hours in the first 6 months after earthquake, now it is approx 50-100 hours every month.)
Fundraising and administrative work by "Weltweitwandern Wirkt!" is done free of cost by volunteers.
Sudama Karkhi / ATH is financially supporting travel costs and accommodation in Nepal for project experts and journalists
Weltweitwandern GmbH is financially supporting international and local travel costs of project experts and journalists.
PROJECT HISTORY
PHASE 1 = FAST SUPPORT AFTER THE NATURAL DESASTER
After earthquake we immediately could distribute food and shelter for the effected earthquake victims. We gave out our local trekking equipment, bought things at local market and used our own local teams, cars and busses so we could help extremely fast, much earlier than most of other foreign NGOs!
In addition to our local Nepal-team also befriended guide Hubert Neubauer und Weltweitwandern Nepal product manager Sandra Pieber flew to Nepal only weeks after the earthquake to help to organize help.
At the end we build 120 family accommodations,
We financed and organized a temporary tented school for 500 children
The children of our totally destroyed "happy bottle houses children home" where fist staying in tents, then moved to the temporary repaired existing structure.
Temporary repair was done with plywood and corrugated Iron sheets and is not insulated and not winter-proof.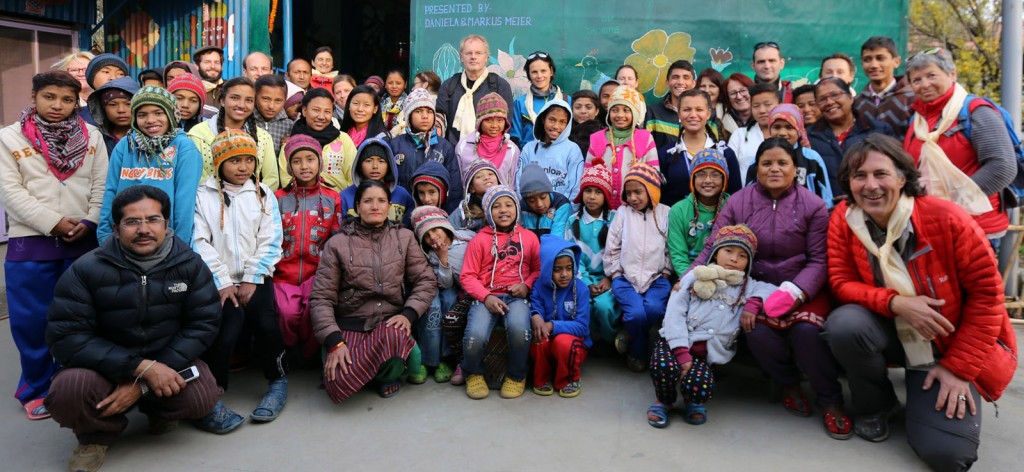 PHASE 2 = LONG TERM SUSTAINABLE SUPPORT FOR NEPAL
Now we have finished the immediate disaster aid and we move to a long-term support, which is planned as following:
PRESENT PROJECT – TEAM
Technical specialists:
Johannes Würzler / architect Austria
Sagar Chitrakar / architect Nepal
Biswa Ram / structural engineer
Project management:
Sudama Karkhi / PAORC director
Mr. Kebal / PAORC manager
Christian Hlade / "WWW-Wirkt" director
Sonja Reinisch / "WWW-Wirkt" manager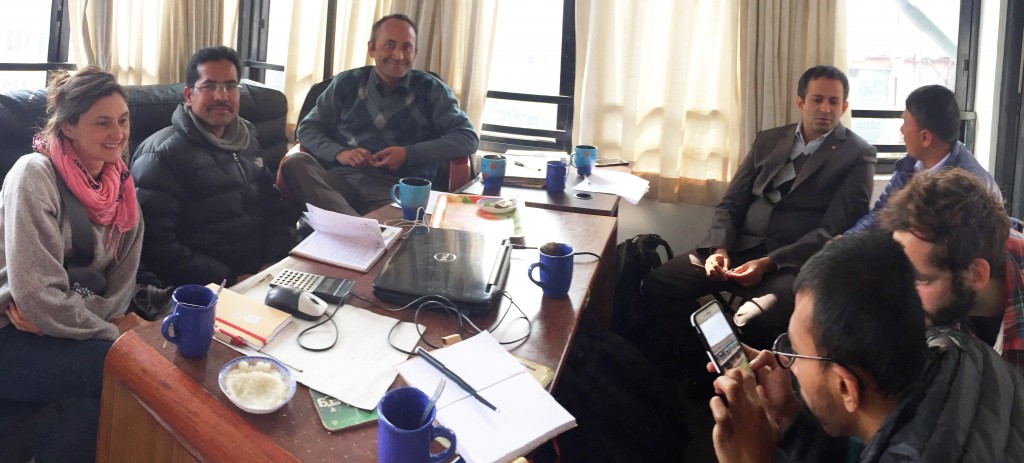 4 BUILDING SITES
"Bottle Houses Old Site": is only a rented site for approx 20 years – no further big investments planned
"Bottle Houses New Site": owned by PAORC, approx. 2.200m2
"School New Site": owned by PAORC, approx. 3.500m2
Hile (=Sherpa Village on the trekking route to Mt. Everest. Home of many of our porters and some of our guides.)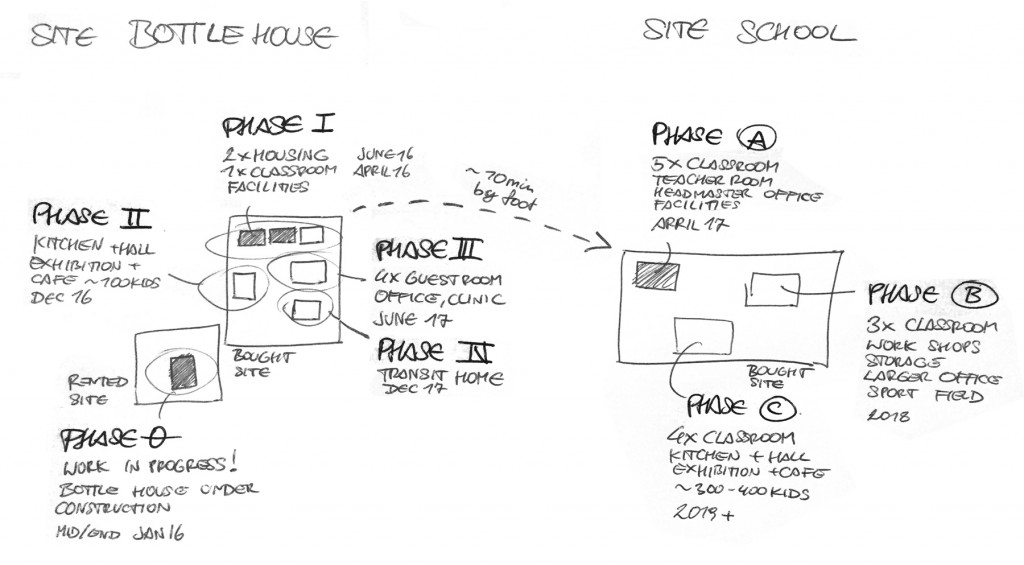 CHILDREN HOMES / HAPPY BOTTLEHOUSES – Planning for 100 Kids
Construction Phase 0 (work in progress!)
Rebuilding of two-storey Bottlehouse on old site
3 sleeping rooms in ground floor , library/study room in upper floor
damaged reinforced concrete beams need to be supported with wooden beam right under weakened sections. Filling with bricks (load bearing, NO bottles!)
until end January 2016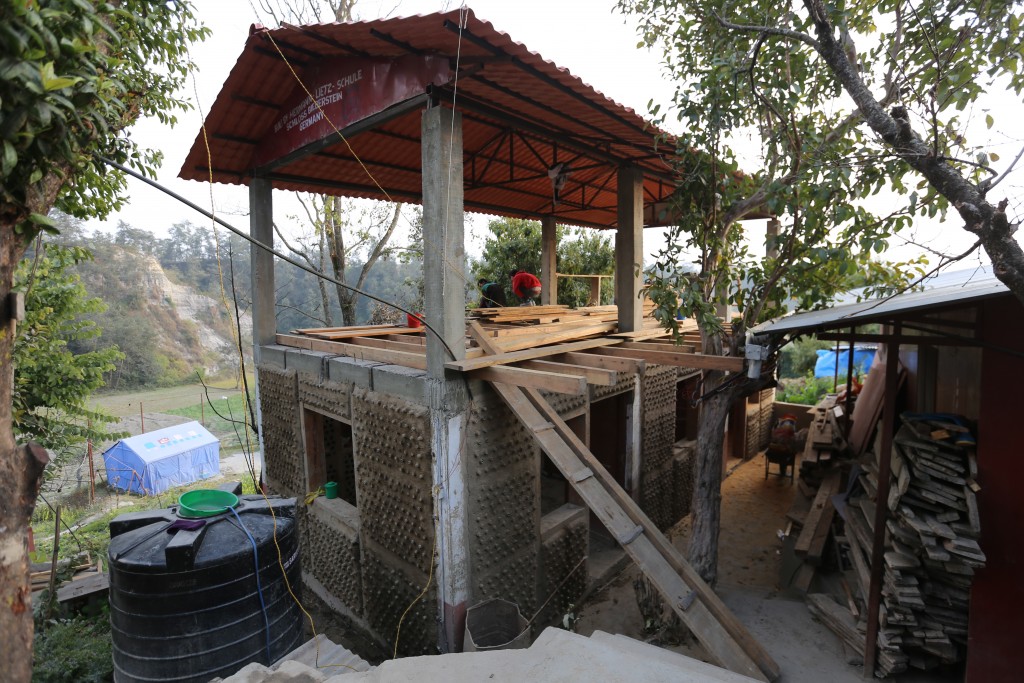 Construction Phase 1
3 Buildings
2 two-storey building, each approx. 200m² / total 400m2
Housing incl. facilities such as toilet and shower for 60 Children (each building 30 Children) final Design will be defined by latest mid February
until June 2016
1 building from either Construction Phase 2 or 3 for temporary class rooms (2 x min 40m² plus facility rooms = total 100m2) – only if funding available.
Final Design will be defined by latest mid February
until April 2016 (School start)
comment: if there is not enough funding available for the 3rd new building now (=temporary school), there is a possibility of using the ground floor of one of the 2 storey-housing buildings as temporary class rooms for one year, still enough housing space for 60 children (incl. Bottlehouse of Construction Phase 0).
Construction Phase 2
1 two-storey building, approx. 400m²
ground floor approx. 200m²: kitchen, eating and studying hall
upper floor approx. 200²: café, exhibition space, activities
for approx. 100 Children
until December 2016 ­ – if funding available
Construction Phase 3
1 two-storey building, approx. 300m²
ground floor approx. 150m²: office, clinic
upper floor approx. 150m²: 4x guest rooms with facilities (toilet/shower)
until June 2017
Construction Phase 4 (Optional if funding available!!)
1 two-storey building, approx. 200m²
Transit home, housing
until approx. 2017 / 2018


SCHOOL – Planning for 400 students
School will – at the final stage – host 8 classes plus 3 preschool classes with a total of approx. 400 students
No time pressure, high quality Design wanted
Focus on alternative and sustainable Concept
If possible cooperation with TU Graz in terms of structural engineering
If possible students can also work on the building site and also help to raise donations
Construction Phase A
5 Classrooms, approx. 200m² (each class room 40m²)
Headmaster Office, Teacher Room, approx. 10+30m²
Facilities such as toilets and showers
Sport field
Total approx 300 m2
until April 2017 (School start)
Construction Phase B
3 Classrooms, approx. 120m² (each class room 40m²)
Work shop rooms (for vocational /practical school concept)
Office and Storage
until 2018?
Construction Phase C
4 Classrooms, approx. 160m² (each class room 40m²)
kitchen, eating and studying hall
café, exhibition space, activities
for approx. 300-400 Children
until 2020+?
ARCHITECTURAL PLANNING
Weltweitwandern Wirkt is willing to contribute and to finance the architectural planning of the new school and architectural redesign of the masterplan (which will be finished latest until end of January 2016) for New bottle Houses .
Our aim is to build an example for earthquake resilient buildings with sustainable and natural materials such as bamboo, mud, recycled bottles, etc. The planning will be done by the project team consisting of Nepalese Engineer Bishwa Ram, Nepalese architect Sagar Chitrakar and Austrian architect Johannes Würzler.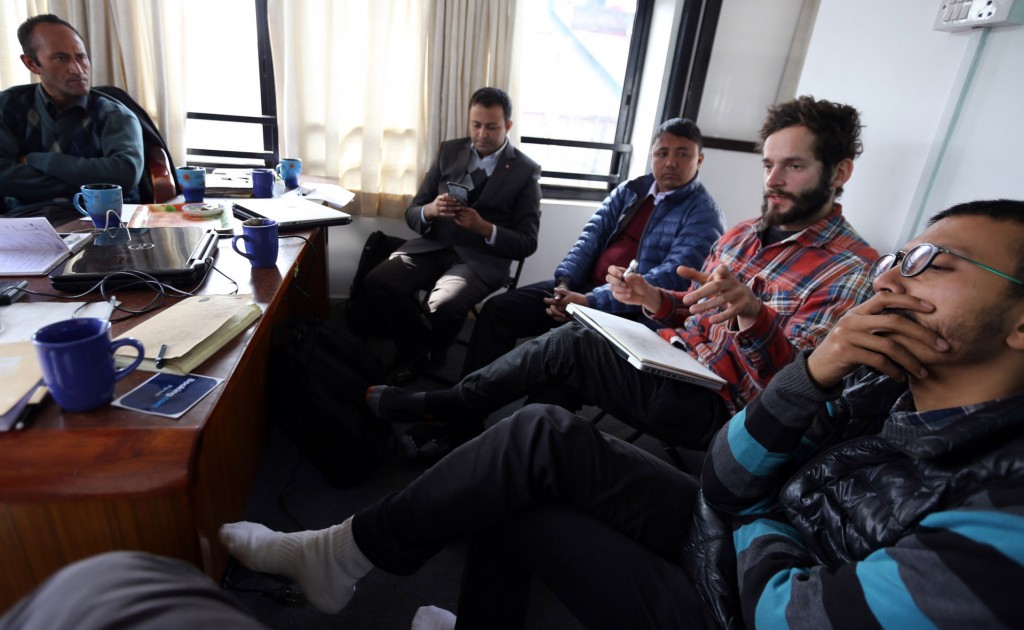 VILLAGE SCHOOL IN HILE (Everest Region)
Weltweitwandern Wirkt supports the reconstruction and improvement of the Village school in Hile and teacher trainings, teacher funding. Project Partner is PAORC . Projectcoordinators are Sonam Sherpa and Sarah Höfler. Good communication is very important!
SOCIAL FUND FOR GUIDES & STAFF
Weltweitwandern Wirkt will support the guides and staff with EUR 29.000.-
This is an aid for earthquake loss of property and also to support guides in the critical time after earthquake.
29 guides and staff will be supported as per list given by staff on Dec. 20th 2015
The guides /staff agreed to give the same shares to everybody in the team.
Each of 29 pax staff will get 50% = EUR 500.- (minus tax, if applicable) as a personal help.
The rest = 50% will go into a "Social Staff fund" for:
Earthquake support
Support of staff members or families in case of accident
Emergency aid in case of crisis
To build security and stability
social activities of the whole team
school money for children
fund and money must be managed by the guides /staff themselves
In future ATH/Sudama will also contribute to this fund

EMPOWERMENT 2016
Ladakh – Partner Tsewang Nyamgyal (Issi) was travelling with Weltweitwandern Journalists group in December 2015. Kindly supported by ATH / Sudama. Thank you very much!
Nepal Guide Sonam Sherpa is therefore invited by Tsewang Nyamgyal (Issi) to Ladakh.
There will be a 2 month german training May/ June 2016 in Leh by WWW-teacher Caroline Oedderou. After that Sonam Sherpa can join a Weltweitwandern trekking group as a "trainee assistant." Weltweitwandern Wirkt will support the flight costs to/from Leh with EUR 400.
Nepal Guide Ashok should work on his German pronunciation.
Also his "team skills" should be a little bit improved.
Weltweitwandern will provide the costs of a 3 weeks german course in Graz and pay and organize a place to stay. We will spend some days with Ashok and try to find additional "german conversation volunteers". Also we will try to organize invitations by WWW-guests by newsletters / Flight and pocket money for food and travel has to come from Ashok / ATH
Time need to be discussed, please minimum 5-6 months in advance, to allow good planning!
We cannot host him, if we have to little time in advance to plan and prepare.
Our common mission is to work together to build long-lasting, sustainable and beautiful places to live and to learn for a bright future of Nepal!
Thank you for your very kind support!
Financial Help is very much welcome!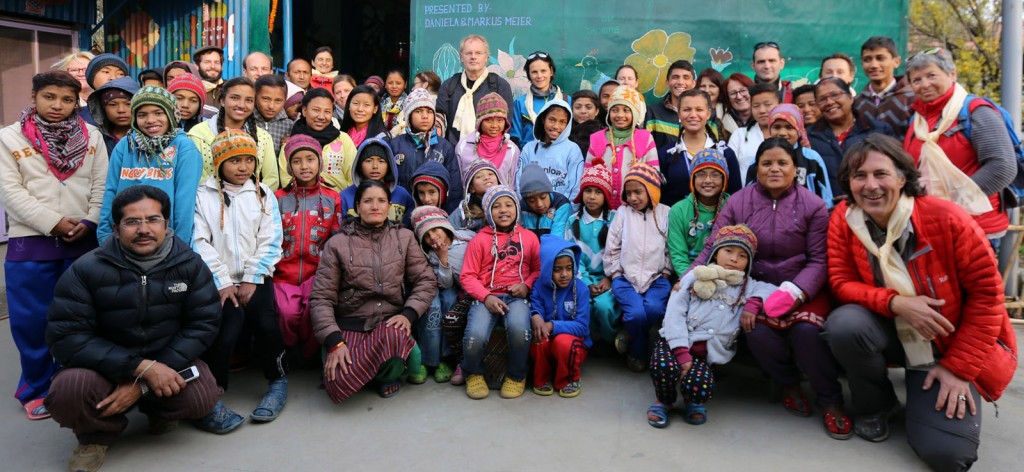 Donations:
Weltweitwandern Wirkt!
IBAN: AT37 6000 0000 7361 5501
BIC: OPSKATWW
Kennwort: Nepal / Spendername + Adresse
Further Infos:
www.weltweitwandernwirkt.org
www.facebook.com/weltweitwandernwirkt
Personal Infos: Sonja Reinisch: verein@weltweitwandern.at